Power Transformer
GT Electronic India offers a wide range of power transformers, designed to grant the reliability, durability and efficiency required in industrial and commercial applications.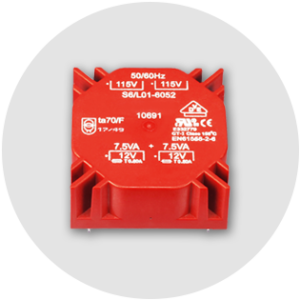 PCB Mountable Toroidal Power Transformer
GT Electronic India offers 50/60Hz flat design and high quality PCB mountable toroidal transformers. These transformers are intended for 115V or 230V @ 50/60Hz applications. Our transformers meet UL 1950, VDE and EN60950.
Features
Flat design and low weight compared to traditional stacked lamination types
1.6VA to 50VA
Primary winding (115V or 230V @ 50/60Hz) with center taping for parallel or series connection
Operating ambient temperature +60°C
For easy assembly we offer M4 or M5 threads in the center (based on the VA)